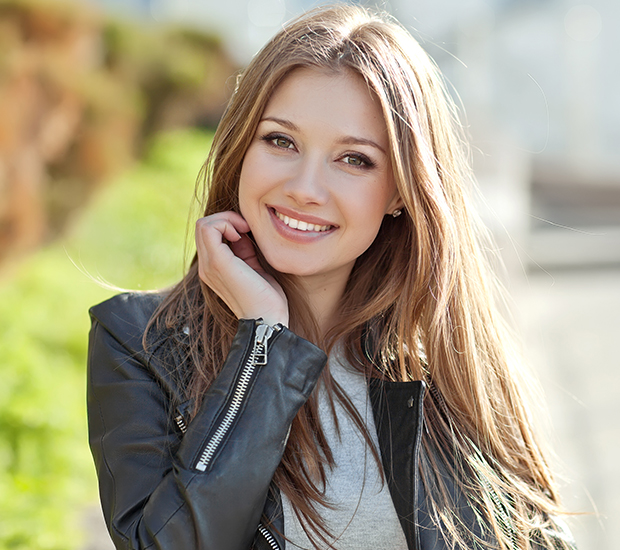 Cosmetic Dentist
Visalia, CA
The root of the problem
Visiting a cosmetic dentist offers several services and treatments for patients of all ages. If you are struggling with your appearance, or if you have dental conditions causing you pain, it is time to visit with our dentist. At our office, you can get the help you need, whether you have badly decayed teeth, a broken or chipped tooth or discolored teeth. Our dentist has the training and knowledge to offer solutions to improve your smile and your overall oral health.
There is no reason you should have to continue suffering irritation or discomfort. You can stop hiding your teeth when you meet other people. It can be embarrassing to smile or eat when you are missing teeth or have other dental challenges. Speak to our staff about what options make the most sense for you and your situation.
Call us today and schedule an appointment so you can once again feel good about the way you look.
The human body is imperfect; it is prone to an assortment of ailments and conditions. A person's mouth and teeth are no different. However, many of the issues that patients face with oral health are preventable. Tooth decay and infections are two of the most common problems dentists encounter. Proper oral hygiene such as brushing and flossing regularly will help keep cavities away. Seeing a dentist every six months for a checkup and cleaning will benefit the patient as well.
Accidents happen
While poor habits can cause damage to teeth and may even cause tooth or bone loss, some dental issues are unavoidable. People who suffer blows to the face may come to the dentist's office with broken or cracked teeth. Injuries while playing sports can knock a tooth out completely. Car and bike accidents may chip or fracture a tooth. For some people, crooked teeth or bite abnormalities affect their smile. Sometimes teeth come in and develop this way. Regardless of the challenges, a cosmetic dentist can help.
Smile makeover
When two people first meet, the other person's mouth and teeth are often the first noticeable features. People who are ashamed about the condition of their teeth may feel embarrassed and want to avoid social situations. Fortunately, a dentist can help transform a person's smile into one that attracts attention for the right reasons. Teeth-whitening treatments can make ugly yellow or brown stains disappear and replace them with a gorgeous white shade. Traditional braces can straighten misaligned teeth, even in the most severe cases. Treatments such as veneers can fix a chipped tooth while still looking natural.
Dental crowns
Dentists have used crowns for decades as a way to protect teeth and correct chips and cracks. A crown is a durable cap that the dentist will place over the natural tooth, often after a root canal. Crowns will closely match the color of natural teeth and will also have a normal tooth's form and shape. When a patient has a crown, it will once again be easier and more comfortable to eat. Crowns do not last forever, however, so it is important for the patient to regularly follow up with the dentist and to replace them when necessary.
Invisalign
Many patients are familiar with metal braces as a way to resolve bite and alignment problems. This method uses wires and brackets to put constant pressure on teeth to move them to the right places. More and more dentists are using Invisalign as an alternative to braces. These plastic mouthguards fit over the patient's teeth and move them gradually into the desired spot. Unlike braces, these aligners are barely noticeable and are more comfortable to wear. Also, a patient will not have to wear this mouthguard as long as braces.
Dentures
Some people may think only older people wear dentures, but this can be an effective treatment for adults of all ages. These metal false teeth are covered in plastic and are fixed to a gum-color acrylic base. The dentures fit over the person's gums and can help the patient resume normal eating habits. Dentures can also improve the shape of a person's mouth and help the individual speak more effectively. Most dentures are removable, which can make cleaning and maintenance more convenient. This mouth appliance can work if the person is missing several teeth or has no teeth at all.
Which to choose
It can be difficult for a patient to decide which treatment is right. The dentist will carefully look at each patient's condition and needs to help prescribe a solution. If the dentist cannot save a tooth, for example, dentures will make more sense than a dental crown. Patients who have anxiety about wearing a noticeable mouth apparatus will want to choose Invisalign over braces. For a smile makeover, discolored and misaligned teeth can both hinder this goal, but there are luckily options to correct the problems.
A cosmetic dentist treats a wide age range
Once a child reaches age 7, it is never too early to visit with a dentist who focuses on cosmetic treatments. Traditionally, adults did not wear braces, but this is becoming more common today. Also, many dentists offer teeth-whitening solutions to new and existing patients. If a person loses teeth, dentures may be the right treatment, even with younger patients. Dentists have the tools to help children, teens and adults achieve oral health objectives and feel better about their smiles.
Make your selection
You may have been putting off a trip to the dentist for a long time. Perhaps you were afraid of the pain and discomfort you thought you might feel. Or, maybe you did not want to deal with a long procedure. Our dentist will help you make the right decision for your needs. Set up a time to talk to us about what is bothering you and what you would like to change. With these different methods, you will love the results and how your smile and appearance will never be the same again.
Recent Posts
If you recently found out that you need to undergo a root canal treatment, you will need to visit a dentist with expertise in the procedure. Many people believe that their dentist is a one-stop shop for all their dental requirements. But this is not always the case. This article contains tips for selecting the…